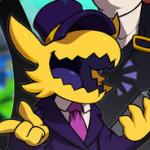 literalrat
PXP / Rank
184 ·

Wanderer

?

Location
New York (Upstate)
Special Ability
Running Away
Player Experience Points (PXP)
You automatically gain PXP by playing in Fabletop sessions.
You earn more by being the GM, and playing in larger groups.
It is updated up to an hour after each session.
Profile Ranks
| | |
| --- | --- |
| 0 | Apprentice |
| 100 | Wanderer |
| 1000 | Adventurer |
| 5000 | Hero |
| 10000 | Avatar |
| 20000 | Legend |
| 30000 | Immortal |
Close Window
About
Characters 6
Treasures 3
Followers 4 / 6
Membership

Advanced

Joined
09.12.2020
Last Visit
10.24.2020
XP Recv'd
10
XP Given
6
Now that I've been here for a while I wanna make this actually more informative in case someone reads it:

I'm a pretty experienced DnD DM, I've never actually played DnD as a player. I specialize in making weird worlds and homebrewing really indepth movesets and boss fights. I'm VERY lax as a DM; I will allow a lot of stuff that's fun even if its not specifically 'allowed.'

My current table that I'm working on is Beyond the Fifth Column (Name Pending lol), where you play as a Task Force of scientists, CIA type agents, or otherwise trying to limit the spread of information surrounding a crisis that no one knows too much about. Amongst trying to limit the spread of information, you are meant to figure out the Crisis and all of its dark secrets, and hopefully prevent the rot of the world as you know it.
| | |
| --- | --- |
| Followers: 4 | Following: 6 |
Driezehn

the Sharpshooter

10 xp

GM:

greenranger9
Alastair

the Sas Operative

0 xp

GM:

vechmaster
Zach

the Guardian

0 xp

GM:

getintheeva
Passant

the Professional

0 xp

GM:

baragon
Trey

the Vermin Vanguard

0 xp

GM:

first
Shrik

the Vermin Magic'slinger

0 xp

GM:

sirpear
| | |
| --- | --- |
| | Beta Tester |
| | Completed Profile |
| | Wanderer - 100 pxp |