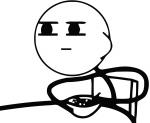 alkwyzheir
PXP / Rank
29775 ·

Legend

?

Location
Somewhere
Special Ability
Words and Burns
Player Experience Points (PXP)
You automatically gain PXP by playing in Fabletop sessions.
You earn more by being the GM, and playing in larger groups.
It is updated up to an hour after each session.
Profile Ranks
| | |
| --- | --- |
| 0 | Apprentice |
| 100 | Wanderer |
| 1000 | Adventurer |
| 5000 | Hero |
| 10000 | Avatar |
| 20000 | Legend |
| 30000 | Immortal |
Close Window
About
Characters 100+
Treasures 12
Followers 80 / 48
Membership

Advanced

Joined
10.20.2017
Last Visit
07.11.2023
XP Recv'd
531
XP Given
904
I'm Alk, hello. I'm very forgetful, abrasive, rude, and direct about something, that I carelessly say things that will offend people. I'm the kind of rotten person that is not worth hanging out with in the short-term. If you want a guy that's difficult to offend, you got the guy right here.

Despite all that, I do take roleplaying as a straight man. I tend to be the "you shouldn't do this" guy In-Character where I'd complain, whine, and do stuff that would be relevant to progress the story.

As another negative side, you can imagine me as a feathery. Most of my character tends to be an avian, a bird-like humanoid which is either too cheerful or too grumbly.

I live in the region of the east, where it's a direct equivalent of 12 hours ahead of USA timezones, so I won't be present on many tables.
| | |
| --- | --- |
| Followers: 80 | Following: 48 |
| | |
| --- | --- |
| | Beta Tester |
| | Completed Profile |
| | Wanderer - 100 pxp |
| | Adventurer - 1,000 pxp |
| | Hero - 5,000 pxp |
| | Avatar - 10,000 pxp |
| | Legend - 20,000 pxp |
| | |
| --- | --- |
| | 10 Followers |
| | 50 Followers |
| | Following 10 GMs |
| | Played with 5 GMs |
| | Played with 10 GMs |