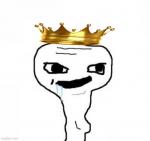 crisisking22
PXP / Rank
844 ·

Wanderer

?

Location
Aviatrax
Special Ability
Hyper-cringe
Player Experience Points (PXP)
You automatically gain PXP by playing in Fabletop sessions.
You earn more by being the GM, and playing in larger groups.
It is updated up to an hour after each session.
Profile Ranks
| | |
| --- | --- |
| 0 | Apprentice |
| 100 | Wanderer |
| 1000 | Adventurer |
| 5000 | Hero |
| 10000 | Avatar |
| 20000 | Legend |
| 30000 | Immortal |
Close Window
About
Characters 71
Treasures 8
Followers 20 / 60
Membership

Advanced

Joined
03.03.2017
Last Visit
07.03.2021
XP Recv'd
119
XP Given
0
THE PREVIOUS PROFILE DISCRIPTION HAS BEEN PURGED BY ORDERS OF HIS MAJESTY THE EMPEROR'S HOLY INQUISITION.

I was naive when I first joined this site, didn't know how to play RPGs then and I honestly haven't been able to now.

My standards for how I write my characters has grown and I do my best to match them evertytime.

I was only as much of a Halo fan because of Hokiebird's Legendary walkthroughs and not much else, 40K on the other hand has shown to be more my speed.

Regular Show still has a very special place in my heart that will never be replaced.

I live in the Philippines, which means I basically have America's Eastern Standard Time but twelve hours ahead (or thirteen during DST).

I am terrible at running games but I really love to worldbuild.
| | |
| --- | --- |
| Followers: 20 | Following: 60 |
| | |
| --- | --- |
| | Beta Tester |
| | Completed Profile |
| | Wanderer - 100 pxp |
| | |
| --- | --- |
| | 10 Followers |
| | Following 10 GMs |
| | Following 50 GMs |
| | Played with 5 GMs |
| | Played with 10 GMs |