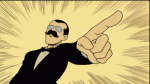 slackernuke
PXP / Rank
30999 ·

Immortal

?

Location
Indiana
Special Ability
Instant Confusion.
Player Experience Points (PXP)
You automatically gain PXP by playing in Fabletop sessions.
You earn more by being the GM, and playing in larger groups.
It is updated up to an hour after each session.
Profile Ranks
| | |
| --- | --- |
| 0 | Apprentice |
| 100 | Wanderer |
| 1000 | Adventurer |
| 5000 | Hero |
| 10000 | Avatar |
| 20000 | Legend |
| 30000 | Immortal |
Close Window
About
Characters 100+
Treasures 13
Followers 33 / 251
Membership

Advanced

Joined
08.07.2016
Last Visit
01.28.2020
XP Recv'd
1997
XP Given
110
So hello my username is Slackernuke as you know since you are here...
== Riddle ==
There is a dead man in the middle of a field, nothing is around him and there are no footprints of any sort. There is an unopened package next to him. How did he die? HINT: As he approached the field he knew he was going to die.
== Short Story or Long ==
I remember a time when I was in elementary school and I was left outside since I was sleeping in a slide when I have woken up I figured I slept till the end of the day since nobody was out and cars were driving from the school. What really happened was that the slide was very uncomfortable but I managed to fall asleep for a few minutes so as I was panicking and enjoying a few minutes in freedom... The class did a rollcall and realized I wasn't there eventually but by the time they checked the school's park I was already walking door to door trying to get back inside. I didn't have the teachers card so I couldn't get inside any door but the front but even then I didn't know how to open it so like any confused kid or cat I waited for someone to open the door and let me in after a lot of knocking when I saw someone and eventually I got in but I didn't understand that I was gonna get in trouble for staying outside that long.
| | |
| --- | --- |
| Followers: 33 | Following: 251 |
| | |
| --- | --- |
| | Beta Tester |
| | Completed Profile |
| | Wanderer - 100 pxp |
| | Adventurer - 1,000 pxp |
| | Hero - 5,000 pxp |
| | Avatar - 10,000 pxp |
| | Legend - 20,000 pxp |
| | Immortal - 30,000 pxp |
| | |
| --- | --- |
| | 10 Followers |
| | Following 10 GMs |
| | Following 50 GMs |
| | Played with 5 GMs |
| | Played with 10 GMs |