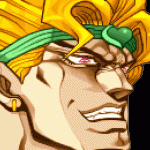 freddursty
PXP / Rank
5050 ·

Hero

?

Location
Texas, man...
Special Ability
Meme at high levels
Player Experience Points (PXP)
You automatically gain PXP by playing in Fabletop sessions.
You earn more by being the GM, and playing in larger groups.
It is updated up to an hour after each session.
Profile Ranks
| | |
| --- | --- |
| 0 | Apprentice |
| 100 | Wanderer |
| 1000 | Adventurer |
| 5000 | Hero |
| 10000 | Avatar |
| 20000 | Legend |
| 30000 | Immortal |
Close Window
About
Characters 81
Treasures 11
Followers 64 / 59
Membership

Advanced

Joined
10.24.2015
Last Visit
01.04.2019
XP Recv'd
358
XP Given
450
Sup, I'm Fred, but most call me Memo outside of Fabletop. My username was created with my ironic love to Fred Durst. I love medieval fantasy, and I love challenges, my love in difficulty coming from many rpgs who have an impossible difficulty setting. Why? Because I love the sudden need to plan ahead of battles, to know that one mess up can more than likely cost your run, and your fiery desire to become the best there is. That being said, I also love writing in general, and wish to get better at it. I honestly wish to get better in the whole GM business, and I don't create favorites, so if you roll badly.. GG.
I mostly have classes on weekdays, and I'm a singer, so some events can interfere with my hours of play, but after the 5:30 PM mark, I'm good to go. I'm friendly, and I only tend to speak up when something doesn't seem fair. I love memes, I believe that is my only flaw. Of course, I'm just now starting with my Guild Medieval Fantasy table, and I wish to implement classes that are bonus traits, and races that change the kind of character you can make. I have pet peeves in overpoweredness (if that is even a word) and really awkward characters. I love Jojo's Bizarre Adventure and One Punch Man, but overall I'm not much of an anime guy. Hope you enjoy my presence.
| | |
| --- | --- |
| Followers: 64 | Following: 59 |
| | |
| --- | --- |
| | Beta Tester |
| | Completed Profile |
| | Wanderer - 100 pxp |
| | Adventurer - 1,000 pxp |
| | Hero - 5,000 pxp |
| | |
| --- | --- |
| | 10 Followers |
| | 50 Followers |
| | Following 10 GMs |
| | Following 50 GMs |
| | Played with 5 GMs |
| | Played with 10 GMs |