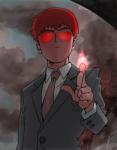 kanto5
PXP / Rank
4824 ·

Adventurer

?

Location
130°/002° southeast
Special Ability
Retired Dragoon
Player Experience Points (PXP)
You automatically gain PXP by playing in Fabletop sessions.
You earn more by being the GM, and playing in larger groups.
It is updated up to an hour after each session.
Profile Ranks
| | |
| --- | --- |
| 0 | Apprentice |
| 100 | Wanderer |
| 1000 | Adventurer |
| 5000 | Hero |
| 10000 | Avatar |
| 20000 | Legend |
| 30000 | Immortal |
Close Window
About
Characters 23
Treasures 10
Followers 92 / 56
Membership

Advanced

Joined
08.22.2015
Last Visit
06.21.2020
XP Recv'd
525
XP Given
247
Kanto5 is here to tell you that his play style is simple, just core fabletop rules with little to no changes.

I've experienced playing in people's tables, and I've experienced a bit of hosting then, I'm not sure if I have a definitive style in how I host, and my logs don't really represent my style anymore, as it has been two years and a lotta changes have happened.

I role-played a lot in other games. Some roleplaying sessions were pure excellence, at least to me at the time, and some were just dirt mixed with dried cat poop. I tend to shy away from heroic roles, or 'protagonist-ty' roles, or power houses and tend to join the smaller circles like techie/the scientist, medic etc.. This because I don't feel like competing for leadership.

(and the corniest and most awkward feeling when you try to quote your favorite protagonists, and flexing your arms during a tournament to the death)

I don't have a solid schedule. I'm in and out, so I tend to not get attached to long term campaigns.
| | |
| --- | --- |
| Followers: 92 | Following: 56 |
| | |
| --- | --- |
| | Beta Tester |
| | Completed Profile |
| | Wanderer - 100 pxp |
| | Adventurer - 1,000 pxp |
| | |
| --- | --- |
| | 10 Followers |
| | 50 Followers |
| | Following 10 GMs |
| | Following 50 GMs |
| | Played with 5 GMs |
| | Played with 10 GMs |