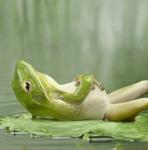 papafrog
PXP / Rank
5081 ·

Hero

?

Location
U.S, Oklahoma
Special Ability
nothing too special
Player Experience Points (PXP)
You automatically gain PXP by playing in Fabletop sessions.
You earn more by being the GM, and playing in larger groups.
It is updated up to an hour after each session.
Profile Ranks
| | |
| --- | --- |
| 0 | Apprentice |
| 100 | Wanderer |
| 1000 | Adventurer |
| 5000 | Hero |
| 10000 | Avatar |
| 20000 | Legend |
| 30000 | Immortal |
Close Window
About
Characters 38
Treasures 10
Followers 208 / 33
Membership

Advanced

Joined
06.11.2015
Last Visit
03.12.2023
XP Recv'd
40
XP Given
728
Ladies and gentlemen, fables and tables alike, I'd like to apologize for the things I said earlier. it was rude of me to call you elitist or insult you the way I did. And it was completely uncalled for. I've realized today that I am a toxic player on this site. I let my jealousy over closed games and sense of obligation to host claim my mind and take over. I have outbursts here, get into arguments, fights with the other users here. I'm genuinely sorry for my actions and truly hope that my words have not hurt anyone. I find most of you to be fine people, good people. And I genuinely hope that your tables tell amazing and fantastic stories. But my journey here on fabletop needs to finally come to a close. I thank you all for the amazing moments I've had on here, as I've truly had some wonderful times. But i cannot continue to be here acting the way i have this past year. I wish you all the best, and bid you all a final farewell.
| | |
| --- | --- |
| Followers: 208 | Following: 33 |
| | |
| --- | --- |
| | Beta Tester |
| | Completed Profile |
| | Wanderer - 100 pxp |
| | Adventurer - 1,000 pxp |
| | Hero - 5,000 pxp |
| | |
| --- | --- |
| | 10 Followers |
| | 50 Followers |
| | 100 Followers |
| | Following 10 GMs |
| | Played with 5 GMs |