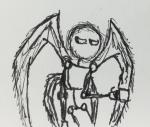 spidermod
PXP / Rank
4587 ·

Adventurer

?

Location
Starship Oblivion
Special Ability
Being Late
Player Experience Points (PXP)
You automatically gain PXP by playing in Fabletop sessions.
You earn more by being the GM, and playing in larger groups.
It is updated up to an hour after each session.
Profile Ranks
| | |
| --- | --- |
| 0 | Apprentice |
| 100 | Wanderer |
| 1000 | Adventurer |
| 5000 | Hero |
| 10000 | Avatar |
| 20000 | Legend |
| 30000 | Immortal |
Close Window
About
Characters 21
Treasures 10
Followers 101 / 14
Membership

Advanced

Joined
04.10.2016
Last Visit
04.19.2018
XP Recv'd
189
XP Given
369
Time zone: GMT-4. I live in Brazil, yo.

Typying thongs wrung on purrpose is me passion.

I love Medfan and sci-fi universes. Cant do super powers/real world role plays really well, unfortunately.

Normally I try to play somehing that isn't human, by preference a robot. Also,I like monsters! So expect me to often put a skeleton/slime/living armor as someone friendly instead of straightforward evil!

I kinda consider myself as a casual, mostly because I don't know if I'm actually roleplaying well or keeping pace with the flow, so I'm not really self-aware (help me out).

There's one thing you all should know about me: I FREAKING LOVE ROBOTS, M8.


One last note: I have a limited vocabulary so forgive me if my text is a bit empty.
| | |
| --- | --- |
| Followers: 101 | Following: 14 |
| | |
| --- | --- |
| | Beta Tester |
| | Completed Profile |
| | Wanderer - 100 pxp |
| | Adventurer - 1,000 pxp |
| | |
| --- | --- |
| | 10 Followers |
| | 50 Followers |
| | 100 Followers |
| | Following 10 GMs |
| | Played with 5 GMs |
| | Played with 10 GMs |